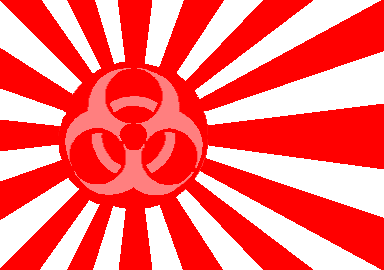 SOLAR WEATHER AND SATELLITES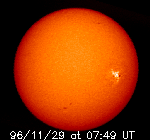 Solar Interference to Satellite Communications The geosynchronous orbit is now used by many satellites for routine telecommunication and broadcast purposes. Such satellites appear to be stationary as viewed from the ground, and are able to provide coverage over large areas. Although such communication is not subject to the vagaries of the ionosphere, it is subject to interference from the Sun
---
Satellite Outage Caused By Sun On October 7, 1995 there was an outage of the Intelsat 511 which is in a geostationary orbit above longitude 180 degrees East. This satellite is used for communications between Australia and the USA. The following report from Intelsat describes the event. http://www.ips.oz.au:80/background/richard/power_1989.html Power Failure in Canada During 1989 On March 13th, 1989 a huge solar induced magnetic storm played havoc with the ionosphere, and the earth's magnetic field. This storm, the second largest storm experienced in the past 50 years, totally shut down Hydro-Quebec - the power grid servicing Canada's Quebec province.
---
Solar Wind Brings Down Electrical Power Grid
In March 1989, technicians at the Hydro-Quebec power company were routinely watching electrical power being distributed to six million people. Suddenly, and without warning, a voltage regulator connected to the La Grande Reservoir in northern Quebec dropped out. Over the next 60 seconds their computer screens started flashing like Christmas trees. A cascade of broken circuits rippled through all of the generators. Power began to collapse throughout the entire grid. In Canada the lights were going out. Power was back online in nine hours but the shutdown cost Hydro-Quebec $10 million. It cost its customers much, much more and they can all blame it on the Sun. Every now and then the Sun throws into space a huge cloud of hot, electrically charged gas or plasma. These clouds travel hundreds of millions of miles out into space carrying a tiny part of the solar magnetic field with them. Several times a year one of these clouds strikes the Earth and the result is a geomagnetic storm. Magnetically charged plasma ploughs into the Earth's magnetic field sending compass needles aflutter. Charged particles stream around the Earth and converge on the magnetic poles. As they collide with the atmosphere they give up their energy in glowing curtains of light spread across the sky - the aurora. Satellites can be disabled in the sky. On the ground induced currents in power lines can trip circuit breakers. Fortunately our planet is protected against this onslaught by a magnetic shield. This planetary defence is called the magnetosphere, a distant, ionised extension of our atmosphere which slows down and deflects the bulk of the stream of particles from the Sun. But the shield is not a complete protection. Under constant buffeting from the interplanetary wind this magnetic barrier can be buckled, distorted or even ripped asunder. Intense electric currents and magnetic storms can cause havoc. It happened, in 1989, in Quebec. The energies are staggering. The overall interaction between the solar wind and the magnetosphere involves enough energy to boil away the Mediterranean. It's a full-scale electromagnetic war out there and later this month scientists are planning to launch four spacecraft into this battlefield.
"What we are now aiming for is a precise understanding of how the Earth's magnetic shield interacts with the solar wind flow," said Rudolf Schmidt, chief scientist of the European Space Agency's Cluster project. "We are hoping to identify the mechanisms that move matter and propagate energy, and try to see whether the consequences of magnetic storms can be forecast."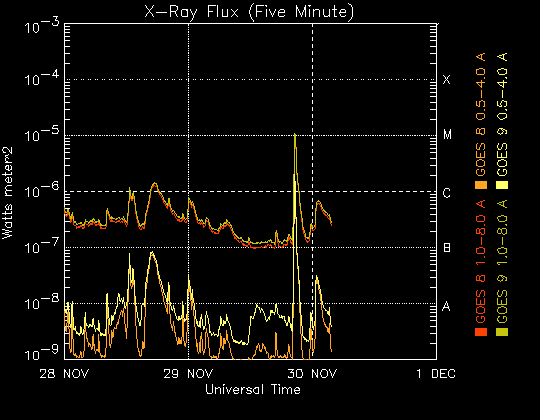 To do that scientists will make a tetrahedron in space. Understanding the complex reactions in the magnetosphere when flexed by the solar wind requires simultaneous measurements in three dimensions - hence the deployment of four spacecraft flying in formation through the magnetosphere. Each of the four, appropriately named Cluster spacecraft, is identical and will fly between 200 and 20,000 km from its companions. When working properly each will deploy a 50m boom carrying electrical field instruments along with smaller booms to measure the magnetic field. Eleven other instruments will measure the numbers of particles of various types as they twist through the magnetic corridors of the magnetosphere.
"This is the very first time that four identical scientific satellites will have been built, launched and simultaneously operated in space," said John Credland, Cluster project manager. "It's going to be a big challenge to operate all four as they fly in formation through the magnetosphere."
Since last summer the four satellites have been at Europe's spaceport at Kourou in French Guiana where they are to be placed atop a powerful new launcher - Ariane 5. Half an hour after lift-off, a system of precompressed springs and separation bolts will eject the four passengers one by one. Three weeks of complex manoeuvres will put the spacecraft through four intermediate trajectories to reach their final orbits. The magnetic fields and ionised gases that the four Cluster spacecraft will fly through cannot easily be reproduced in laboratories on Earth. The stuff out there is in a form that makes up at least 95 per cent of all the visible matter in the Universe. Studying it may help us understand more about the Universe and help us forecast more accurately the times when an insignificant star in an insignificant part of that Universe decides to cause havoc on a tiny planet. Dr David Whitehouse is BBC TV and radio science correspondent.
---
SPACE WEATHER FORECASTING. SPACE WEATHER. The Earth's environment extends far beyond the atmosphere into space.
---
Links to Sites Related to Solar Physics Presented by the Space Environment Center Space Weather Outlook
An example of a solar weather forecast from this site: SOLAR ACTIVITY IS FORECAST TO BE PREDOMINANTLY LOW WITH AN ISOLATED M-CLASS FLARE POSSIBLE FROM REGION 7999. IT IS NOT LIKELY THE M-CLASS FLARE MENTIONED ABOVE IS THE BEGINNING OF AN INCREASE IN FLARE ACTIVITY FROM REGION 7999 BECAUSE OF GENERAL DECAY IN THE REGION. THE M1 FLARE IS MORE LIKELY A RESULT OF SUNSPOT PROPER MOTION AND REALIGNMENT OF THE OVERLYING FIELDS. THE PROPER MOTION OCCURRED AT THE SOUTHERNMOST PART OF THE REGION SO THIS PHENOMENON IS NOT EXPECTED TO CONTINUE. THE GEOMAGNETIC FIELD IS FORECAST TO BE QUIET FOR THE NEXT THREE DAYS.
---
Space Environment Center The Space Environment Center (SEC), headquartered in Boulder, Colorado, is one of the 11 Environmental Research Laboratories of the National Oceanic and Atmospheric Administration (NOAA). SEC conducts research in solar-terrestrial physics, develops techniques for forecasting solar and geophysical disturbances, and provides real-time monitoring and forecasting of solar and geophysical events.
---
Observe Today's Space Weather Here on Earth, it is easy to look outside your window to get an idea of what the day's weather will be like. To get an idea about what the weather is like on the Sun and in the space between the Earth and the Sun, scientists use images taken in specific wavelengths of light and plots of changes detected by sensitive instruments on satellites and the Earth High solar activity can cause storms when the disturbed solar wind reaches Earth. Storms can cause satellite surface charging, increased atmospheric drag, and risk to astronauts working in space. On Earth, there may be disruption of radio communications and power outages as well as beautiful auroral displays.
---
The principal mechanism for producing geomagnetically induced currents (GICs) in electric power systems is the induced earth-surface-potential (ESP) due to geomagnetic field fluctuations during a geomagnetic storm. The ESP, which can be 3-6 V/km or higher during severe storms, is impressed across the grounded neutral points of three phase transformers. The ESP acts essentially as a voltage source that has a frequency in the range of a few millihertz. The GIC biases the excitation characteristics of transformers causing half-cycle saturation. The saturation result in a highly distorted exciting current rich in harmonics and drastically increases reactive power consumption in transformers. The large reactive power losses that occur simultaneously are sufficient to cause dangerous or even intolerable system voltage depression. The injected harmonics also create relay problems. The transformer itself can be severely stressed and repeated exposure can even ultimately lead to transformer failure. Generator heating and relay failures are also often observed at times of geomagnetic storms. GICs have been recorded by the power industry during many years. The first documented case, occurred on Easter Sunday, March 24, 1940. On the US East coast many disturbances were noted on March 24, such as reactive power disturbances and misoperating relays. A severe geomagnetic storm was the cause and the Ap index reached 207. The most spectacular solar-terrestrial event took place in March 1989. The entire province of Quebec experienced a blackout lasting more than nine hours. The Hydro-Quebec power company lost more than 21 500 MW. A large generator step-up transformer at a nuclear plant on the US east coast was damaged. Also in Sweden many effects were noted. Seven 130 kV-lines tripped. Fire alarms went on. Large fluctuations in the power transmission were noted.
---
Earth itself is a gigantic magnet. The solar wind confines Earth's magnetic field to a comet-shaped cavity known as the magnetosphere. As the solar wind flows past the magnetosphere, it acts like a cosmic generator, producing millions of amps of electric current. Some of this electric current flows into Earth's upper atmosphere which can light up like a neon tube to create the mysterious and beautiful aurora
---
Geomagnetically induced currents Hazard for power systems, pipelines etc. A current connected with a geomagnetic variation and flowing in a man-made conductor is called a geomagnetically induced current (GIC). GICs have been observed in power transmission systems, oil and gas pipelines, telecommunication cables and railways. GICs are thus one example of the consequences of solar-terrestrial interactions. GICs can also be regarded as a related phenomenon of "space weather". GICs may be more than 100 times higher than the normal magnetizing current of a transformer (being typically of the order of 1 A). This can lead to a saturation of the transformer which may further cause overloading, overheating, false relay trippings, disturbances in the reactive power balance and harmonics (frequency multiples of the basic one). A nine-hour total blackout of the Canadian Hydro-Quebec power system occurred in March, 1989, during a very intense magnetic storm. The economical cost of the blackout, including power losses, and replacing one damaged transformer in New Jersey (USA) has been estimated to be millions of dollars. During the March 1989 storm, the largest GIC was reported by Newfoundland and Labrador Hydro Electric Utilities (150 amps/phase), as mentioned in "Understanding solar terrestrial reports, Part I - Morphological analysis of phenomena, Revision 1.2" (ftp://xi.uleth.ca/pub/solar/Docs/ustr1-3.doc). For reference, the largest GIC ever observed in Finland was 201 A in the earthing lead of the Rauma transformer on March 24, 1991 (corresponding to 67 A/phase). There is a map available that describes the damages due to the March 1989 storm in northern America (jpeg image, about 400 Kb)
---
"The largest magnetic storm for 40 years started at 2am on 13 March 1989... "Ionospheric disturbances caused disruption of radio communications and resulted in the loss of TV reception in some areas. Satellite communications were also affected - as were satellite orbits as the increased ionospheric density produced extra drag. The intensity of the storm was such that the aurora borealis (northern lights), normally restricted to high latitudes, was seen clearly in the south of England, and there were reports of observations of the aurora in Italy and as far south as Jamaica. "The rapid changes in the geomagnetic field during the storm induced voltages in power lines, transoceanic cables, and telephone and cable TV networks. In Quebec, transformers in the Canadian electricity supply tripped, blacking out large areas of the Province and plunging more than a million people into darkness. (No doubt with a consequential blip in the birth-rate in nine months time!)
---
IPS Radio & Space Services Interesting Facts and Educational Material This area contains a series of occasional articles by IPS staff and their colleagues. Everything you always wanted to know about the Sun and ionosphere but were afraid to ask ...

IdeaWorx
462 West Napa Street, Suite 201, Sonoma, CA 95476
(707) 939-6655 Fax: (707) 940-4146
Email: lperdue@ideaworx.com
---
Copyright 1994-2004 Lewis Perdue, All Rights Reserved