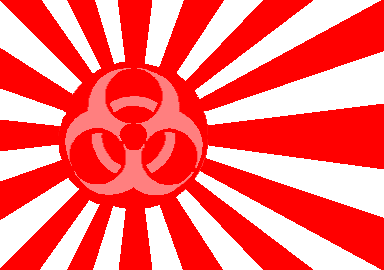 Japan War Crimes
---
AUTHOR'S NOTE: It is amazing to see the information available today compared with the little that had been written when I first published Slatewiper as an eBook on the web in 1995.
---
A Preliminary Review of Studies of Japanese Biological Warfare and Unit 731 in the United States
Japan's Germ Warfare and the Korean War
Why the US let Japanese war criminals go free
The Asian Auschwitz of Unit 731
JAPANESE MEDICAL ATROCITIES IN WORLD WAR II: UNIT 731 WAS NOT AN ISOLATED ABERRATION
The Other Holocaust : Nanjing Massacre, Unit 731, Unit 100, Unit 516
THE NUREMBERG CODE REVISITED: A JAPANESE PERSPECTIVE
Why Japanese doctors performed human experiments in China 1933-1945
A Preliminary Review of Studies of Japanese Biological Warfare Unit 731 in the United States
A full accounting for the Asia-Pacific War is imperative when ruling elements of the Japanese Government foster collective amnesia and ultra-nationalistic citizens engage in denial, justification and whitewashing of Japanese war crimes committed in the first half of the 20th century
Japan's Past of Wars Against Its Neighbors Haunts Japan's Foreign Affairs
30th Anniversary of Normalization of Sino-Japanese Ties
New Evidence of Japanese War Crime
Massacre of 3,000 Remembered in Northeastern City
Victims of Japanese Chemical Weapons Supported in Harbin
Memories of War: The Second World War and Japanese Historical Memory in Comparative Perspective
Nanjing Massacre and the Tokyo War Crimes Trial -- The document is based on the pamphlet by New Jersey Hong Kong Network.
Japanese War Crimes -- For our common humanity What experience and history teach is this -- That people and government never have learned anything from history, or acted on the principles deduced from it.
A Concise Dictionary of Japanese History Revisionism Compiled by Zhang Donglin.
To Japanese people who are looking at this page. From the producer: I wish that Japanese people, we, were more serious about our history. If so, we could have really faced our past.
THE TOKYO WAR CRIMES TRIALS MAY 3, 1946 to NOVEMBER 12, 1948
All Japanese Class A war criminals were tried by the International Military Tribunal for the Far East (IMTFE) in Tokyo. The prosecution team was made up of justices from eleven Allied nations.
Nanjing Massacre (1937-1938) In December 1937, Nanjing fell to the Japanese Imperial Army. The Japanese army launched a massacre for six weeks.
According to the records of several ..
NJ Massacre WWW Message Board Comment: Japanese Denial of WW II
Unrepentant Japan OSAKA - Refusal to admit guilt for its war of aggression defines the Diet coalition's position on compensation for "comfort women."
NOW IS THE TIME FOR A RESOLUTION THAT PROVIDES AN APOLOGY AND REPENTANCE FOR JAPAN'S WAR-TIME PAST -- Haruki Wada, Tokyo University Professor A Chance Exists to Draw Up a Parliamentary Resolution During the Current Coalition Administration.
Korean Opium for Japan's Wars Very little has been reported about the opium fields in
northern Korea. During the occupation, Korean farmers were forced to grow opium for
Japan's opium.
China's wartime capital, when he responded to a civic plea. It was 1939. Japanese
bombs had extinguished
Back to Germ War and ... This article talks about Japanese doing
vivisection of human beings for germ war experiments, mostly at Unit 731. Documents about germ war experiments at other places, including experiments on Americans will be added soon.
A Preliminary Review of Studies of Japanese Biological Warfare Unit 731 in the United States Tien-wei Wu Table of contents Introduction The origin of Unit 731 The US knowledge of the Germ War The deal between US and Unit 731 members Japanese experiments on ...
Japan's "No-War Resolution" Part II Message posted by Kenji Adzuma
Voice of America
---
---
IdeaWorx
462 West Napa Street, Suite 201, Sonoma, CA 95476
(707) 939-6655 Fax: (707) 940-4146
Email: lperdue@ideaworx.com
---
Copyright 1994-2004 Lewis Perdue, All Rights Reserved