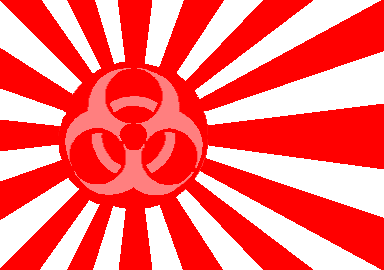 THE RESURGENCE OF RACIST AND NATIONALIST PREJUDICE IN MODERN-DAY JAPAN

---
AUTHOR'S NOTE: It is amazing to see the information available today compared with the little that had been written when I first published Slatewiper as an eBook on the web in 1995.
---
The fundamental beliefs that these ultra-nationalists, or uyoku, have is that, first, Japan must return to its 1930's "sacred values" -- including a militaristic ideology, deification of the Emperor and Japanese as a pure and homogenous people.
Much of Northern Asia spent last week debating whether or not Japan's Prime Minister should have visited the Yasukuni Shrine.
Violence Against Women in War Network-Japan
My Wartime Guilt of Vivisections carried out at Military Hospital during Japan's Invasion of China
Koizumi's War Shrine Visit Adds Fuel to Flames of Asian Anger
Do other Asians Like Japanese?
Japan has a responsibility to recognize its war atrocities
What drove Prime Minister Junichiro Koizumi to plow ahead with a visit to the controversial Yasukuni Shrine, drawing the wrath of China and South Korea?
War Victims Appeal Tokyo Court Ruling
Historians Protest Japanese PM's Shrine Visit
Yasukuni symbolizes Japan's failure to acknowledge its aggression in World War II.
The Official Yasukuni Shrine site
Japanese PM's Shrine Visit: A Move Challenges Justice
Diggers up in arms over Japanese PM's visit to war shrine
Contemporary Forms of Japanese Nationalism and Racism
on Tuesday dozens of Diet members, including Cabinet ministers, visited Tokyo's Yasukuni Shrine, a Shinto memorial dedicated to the nation's war dead. Asian nations invaded by Japan have criticized the politicians' visits to the shrine in the past, saying they justified Japan's war effort.
So-called "National Consciousness"
Can we tolerate education which indoctrinates children into believing that Japan fought a just war? -- On the core issue of 'new history textbook'
The Emergence of Japanese Supernationalism
Hirohito and the Making of Modern Japan
Japan guilty of germ warfare against thousands of Chinese
---
Neo-Nationalist Japan Prime Minister Visits Controversial War Shrine To Honor War Criminals
TOKYO (Reuter) - Prime Minister Ryutaro Hashimoto Monday visited a controversial shrine to the nation's war dead, including executed war criminals, breaking a decade-long taboo on Japanese leaders visiting the site.
In a surprise move that risked angering China, the United States and other nations that were victims of Japan's World War Two actions, Hashimoto declared the time had come for Japan to stop apologising for honouring its war dead.
Hashimoto brushed aside suggestions that it was inappropriate for him as prime minister to visit Tokyo's Yasukuni Shrine, where 2.6 million Japanese who died in warfare since the 19th century are honoured.
``Why should it matter any more?'' Hashimoto told reporters. ``Surely it's time to stop letting that sort of thing complicate our international relations.'' A controversy erupted in the mid-1980s over politicians visiting the memorial when it was disclosed that the Shinto place of worship also enshrined the remains of executed World War Two criminals, including wartime Prime Minister General Hideki Tojo.
Some families have protested against the enshrining of Tojo and other war leaders, saying their spirits had no place among soldiers who were ordered to die on the battlefields. But others have said there should be no distinction between those who died in battle and those executed for war crimes.
When Prime Minister Yasuhiro Nakasone made an ``official'' visit to the shrine in 1985, China, South Korea, North Korea and other countries angrily protested. Since then, no prime minister had visited Yasukuni.
Hashimoto's brief visit was not listed in his daily schedule and he refused to say in what capacity he made the visit. Asked why he visited the shrine on this day, Hashimoto, 59, replied it was his birthday.
``I am not going to reply whether I went there in an official or private capacity,'' Hashimoto said. But he said he signed the shrine visitors book as ``Ryutaro Hashimoto, prime minister.''
It was not the first time the right-wing Hashimoto has flirted with controversy over World War Two. In October 1994 he set off a furore by saying in parliament that while Japan turned the Pacific into a war zone, its fight was not against Asian nations but against ``the United States, England and others.''
The most-closely watched day for visits to the shrine is August 15, the date of Japan's World War Two surrender. Before becoming prime minister early this year, Hashimoto paid regular visits to the shrine, including on August 15, in his capacity as head of the Japan Bereaved Families of War Veterans Association.
Hashimoto said that by visiting on Monday, he had avoided making the pilgrimage on the August 15 anniversary. ``I'm also thinking of going on the day I got word of the death of my cousin in the war,'' Hashimoto said. Shinto, Japan's ancient animistic religion, was the state religion until 1945, with the emperor as its spiritual head. Some political analysts were surprised Hashimoto chose to visit the shrine in the midst of a row about how much compensation Japan should pay to so-called ``Comfort Women.''
They were non-Japanese women forced to work in brothels for Japanese soldiers in World War Two. But other analysts said that, with speculation rife about a possible general election before the end of the year,
Hashimoto's visit was a way of avoiding alienating voters on either side of the fence on the war issue. They said his visit to the shrine showed respect for the war dead without triggering the liberal backlash that would have followed a visit to the shrine on August 15.
---
Japanese Prime Minister Visits Shrine To Pay Honor To War Heroes Including World War II War Criminals Guilty Of Horrible Atrocities
Tokyo P.M. Visits Shrine
By MARI YAMAGUCHI, Associated Press Writer
TOKYO (AP) Prime Minister Ryutaro Hashimoto visited a controversial shrine for Japan's war dead Monday, the first serving Japanese leader to do so in more than a decade. Visits by Japanese officials to the Yasukuni Shrine are highly sensitive because World War II war criminals also are enshrined there. Paying homage to them is seen by critics as a defense of Japan's wartime aggression. "Why should it matter any more?" Hashimoto told Kyodo News at the shrine. "It's time to stop letting that sort of thing complicate our international relations." The last official visit by a serving prime minister to the shrine was by Yasuhiro Nakasone on Aug. 15, 1985, the 40th anniversary of the Japanese surrender. The visit sparked protests from Asian countries, including a series of student demonstrations in China. China was quick to denounce Hashimoto's visit Monday.
"The way Prime Minister Hashimoto worshipped hurt the feelings of all the people from every country including China which suffered under the hands of Japanese militarists," said Foreign Ministry spokesman Cui Tiankai in comments reported on state-run television. South Korea's Foreign Ministry, however, issued a restrained statement that avoided direct criticism of Hashimoto. Hashimoto has hawkish views on Japan's wartime role. He headed Japan's largest organization for families of World War II dead until last year, and stirred controversy two years ago when he refused to call Japan's wartime actions "aggression." Kyodo said Hashimoto chose Monday for the visit because it was his 59th birthday. Hashimoto said it was "ridiculous" to ask whether he was visiting as a private citizen or in his official capacity," Kyodo reported. "I've always written my official title," Hashimoto said about his signature in the visitors' log. "When I am prime minister, I write `prime minister."' Hashimoto's private office said questions about the visit should be handled by the prime minister's office. That office, however, would not comment on the visit and said it was not included in his official schedule. Shrine officials, however, confirmed his appearance. "We strongly protest this `official visit' by Prime Minister Hashimoto, which glorifies war and praises the war dead as `heroic spirits,"' said Takemitsu Ogawa, the head of a pacifist group of war victims' families. The visit could trouble Japan's relations with Asian neighbors at a time when it is facing criticism for refusing to provide official direct compensation to women forced into sexual slavery by Japanese troops during the war. The government wants the victims to accept one-time consolation money through a private fund. From: Ignatius Ding. Date: Mon, 29 Jul 1996 11:51:41 -0700
---
Japanese Prime Minister Ryutaro Hashimoto visited Tokyo's Yasukuni Shrine
on Monday, the Japan Times reported. Yasukuni Shrine honors Japan's war dead as well as convicted war criminals. Hashimoto becomes the first serving prime minister to do so since Yasuhiro Nakasone in 1985. Asked by reporters how he characterized the visit in view of repeated protests from South Korea and China over prime ministerial visits to the shrine, Hashimoto said, "Why should it matter anymore? ... surely it's time to stop letting that sort of thing complicate our international relations."
Hashimoto, 59, said he has been visiting Yasukuni because it is where friends who died in the war are enshrined. The prime minister said he chose Monday - his birthday - for the visit to show it was a private one. He said he avoided visiting on the Aug. 15 anniversary of the end of the war and on days when the shrine celebrates its spring and fall festivals. Asked in what capacity he had signed to the shrine visitors book, Hashimoto said that the question was "ridiculous" and that he had been true to his own feelings in going. "I've always written in my status at the time," he said. "When I am prime minister, I write 'prime minister.'" Hashimoto's visit draws immediate criticism from China. "The way Prime Minister Hashimoto worshipped hurt the feelings of all the people from every country including China which suffered under the hands of Japanese militarists," said Foreign Ministry spokesman Cue Tinker in comments reported on state-run television. (Dan) Japan refuses to pay official reparations to former sex slaves
---
Women forced into sexual slavery by Japan's wartime military are refusing money from a pool of private donations
Women forced into sexual slavery by Japan's wartime military are refusing money from a pool of private donations, but a fund organizer said Wednesday that there is hope they will change their minds. The victims are demanding official government compensation, which Prime Minister Ryutaro Hashimoto and other Japanese leaders have flatly refused. The private Asian Women's Fund, organized by the government in an apparent attempt to avoid further demands for government compensation, planned to offer each of 300 recognized surviving victims 2 million yen - $18,600 - by the Aug. 15 anniversary of the end of the war. But the women and their support groups in the Philippines, Taiwan and South Korea have rejected the fund's recent proposal to send delegations in early August to work out the details of the payment, a fund official said on condition of anonymity. The Asian Women's Fund was set up under the administration of former Prime Minister Tomiichi Murayama a year ago. But it has suffered from a lack of Japanese donors, and from anger on the part of the victims, who say it is an attempt to substitute charity for official restitution. Several former sex slaves in the Philippines have privately shown interest in receiving the private payments in addition to government compensation, but the victims' groups they belong to reject the idea, the fund official said. The fund official said the delegations would be postponed indefinitely, and the fund has no immediate prospects to break the deadlock. As of Wednesday, the fund had raised only $3.9 million, less than half of the minimum initial target. The fund will also set aside $6.5 million in medical and welfare projects over the next 10 years, to be paid by the government. But that money will not directly reach individual victims. In a desperate effort to keep the fund alive, Murayama visited its office on Tuesday and donated 1 million yen - $9,300. The same day, three former Korean sex slaves went there to reiterate their refusal to accept a substitute for official compensation. Wednesday, the fund established a committee to continue seeking dialogue with the groups, but the official said none of the victims' support groups, which the fund had hoped would act as its local liaisons, is willing to cooperate. Hashimoto's trip to a Shinto shrine on Monday to pray for Japanese war dead - including war criminals enshrined there - encouraged the women to harden their attitude toward the fund even more. Historians estimate as many as 200,000 Asian women, mostly Koreans, were forced into military-run brothels for Japanese Imperial Army troops during World War II. Others were from China, Taiwan, Indonesia, Burma and the Philippines. The Japanese government has repeatedly refused to give direct compensation or a clearly-worded apology to individuals, saying postwar reparations treaties have settled the issue.
Posted by Ignatius Ding Date: Wed, 31 Jul 1996 17:10:24 -0700
---
A senior politician has deeply embarrassed the Japanese Prime Minister, Mr Ryutaro Hashimoto, by claiming that foreign women forced to work as sex slaves by the Japanese Army only did it for the money
Seisuke Okuno: "Comfort women 'did it for money'" (Sydney Morning Herald, June 6, 1996) By RUSSELL SKELTON, Herald Correspondent in Tokyo A senior politician has deeply embarrassed the Japanese Prime Minister, Mr Ryutaro Hashimoto, by claiming that foreign women forced to work as sex slaves by the Japanese Army only did it for the money. Mr Seisuke Okuno, a former education minister and a member of Mr Hashimoto's ruling Liberal Democrat Party, claims the wartime "comfort women" used by Japanese troops were not forced into prostitution. Mr Okuno told a press conference yesterday foreign women had volunteered to be be sent to the Japanese troops and did it as a "commercial activity" for money.
"The Japanese Army may have arranged the transportation for them to go to the war-fronts for their work, but it didn't force them to go," he said. His comments, certain to spark fury in countries from which the women were forced into army brothels by Japanese troops, come a day after another coalition MP, Mr Tadashi Itagaki, was involved in an angry confrontation with Ms Kim Sang Hee, 73, a former Korean "comfort woman" now fighting for compensation. A Government-backed private fund has just decided to pay 300 survivors of wartime prostitution $24,000 each as compensation. The amount has been condemned as derisory by the women's representatives. Ms Hee told Mr Itagaki she had been kidnapped by Japanese soldiers at the age of 15, taken to an army brothel and forced to work there. Mr Tadashi accused her of lying and claimed she must have served in the brothel for money. He said the women had been recruited by Korean go-betweens and were not forced to serve the troops. Ms Kim replied: "I was taken, raped and forced to work as a prostitute. I was 15." Mr Okuno heads a breakaway faction of the ruling party which refuses to admit Japan was the aggressor in World War II. The formation of the new group and Mr Okuno's comments come at a sensitive time for the Prime Minister, who is about to issue a public apology to the women survivors. War historians estimate 200,000 Asian women, mainly Korean and Chinese, were forced to serve in Japanese military brothels during the war. Groups representing the women have been fighting to win compensation and an apology from the Japanese Government. Rather than accept direct responsibility for the brothels, the Government set up a private Asian Women's Fund to handle compensation payments. The fund decided yesterday to make payments to 300 women survivors in South Korea, the Philippines and Taiwan. Mr Hashimoto and his predecessor, Mr Tomiichi Murayama, have both agreed to issue a written apology to all the women. A copy of the apology is to be sent with each cheque. Mr Hashimoto has indicated he would use the sincere meaning of apology - owabi - to express the Government's regret when writing to the women. This has been welcomed by fund officials and women's groups.
---
Japanese Government Refuse to Compensate "Comfort Women"
Japan's Asian Women's Fund was supposed to solve a delicate problem. The government made it clear that the Fund, which it helped organize, was a private effort to raise money to make "payments of atonement" to "comfort women" -- women forced to have sexual relations with Japanese troops before and during World War II. Many prominent Japanese women supported the Fund; they saw it as the best chance to get help to their Asian sisters. But former first lady Miki Mutsuko has resigned as a leader of its major endorsers because no formal apology to the women is likely to be forthcoming from the government. Next week, the Fund -- it will be one year old in July -- will start to hand out the money it has collected. The original plan was to distribute about $6 million. But it has been able to raise only about $3 million, which it will offer to a selected group of women in the Philippines, South Korea and Taiwan. The government has made it clear it will not make up the shortfall.
---
Asiaweek, Week of May 24, 1996
US Congressional Resolution Calls for Apology and Reparation from Japan
(May 17, 1996) California Republican Congressman Robert Dornan, joined by his colleagues Zoe Lofgren
(D-CA), Bob Stump (R-AZ), and Michael Bilirakis (R-FL), has introduced a Concurrent Resolution in the House of Representatives (House Concurrent Resolution 176) calling for: - the Japanese Government to immediately pay reparations to U.S. military and civilian prisoners of war held by the Japanese during WW II for at least $22,000 each; - the Japanese Government to express formally its regret to U.S. military and civilian prisoners of war who the Japanese tortured, neglected, and on whom it conducted experiments; and - the relevant U.S. Federal departments and agencies to declassify and release documents relating to medical or biochemical warfare experimentation conducted by the Japanese, including the UNIT 731 Detachment, during the war.
Posted by Ignatius Y. Ding, Fri, 14 Jun 1996 17:50:45 -0800
---
Queen Elizabeth II apologized to the Czechs for Britain's 1938 role
(28/3/96) The Assocated Press is reporting that Queen Elizabeth II has apologized to the Czechs for Britain's 1938 role that led to German occupation of Czechoslovakia. Britain, France, Italy and Germany signed the Munich Pact that surrendered Czechoslvoakia's Sudentenland to Germany. 69 Asian "Comfort Women" Rejected Japanese Offer (28/3/96) The Associated Press is reporting that 69 women from four Asian countries have rejected a Japanese offer of money from a private fund for former "comfort women,", i.e., women forced to serve as sex slaves for the Japanese military in WWII; the women demand that the Japanese government apologize and compensate them directly. The private fund, set up by the Japanese government, is being used to evade responsibility claim the women. The women are attending a conference in Manila, Republic of the Philippines. One attendee is a 75-year-old Taiwanese woman who was forced to become a "comfort woman" in Manila and Singapore when she was 18. She never married and said, "I felt that my serving as a comfort woman would be an object >of ridicule by the public. I demand an apology and compensation from the government of Japan." Also attending the conference are 27 South Koreans, 40 Filipinos and one Indonesian who also claim to have been "comfort women." It is estimated that 200,000 Asian women, most from Korea, the Philippines, Formosa (Taiwan), Malaysia and Indonesia were forced to serve as sex slaves by the Japanese. The Japanese government finally issued a blanket apology in August 1993 and set up the private fund, the Asian National Fund for Women, for voluntary contributions. But the Japanese continue to refuse to pay the women directly claiming that treaties signed in the 1960s settled all war claims. The goal of the fund was to raise US$10 million but donations are far short of the goal. Corporations are reluctent to contribute fearing that this could be seen as an admission of guilt and generating bad PR.
---
ILO CONDEMNS JAPAN'S SEXUAL SLAVERY
By HIDEYA TANAKA - Asahi Shimbun
Fri, 8 Mar 1996 17:18:55 -0800 GENEVA (March 5, 1996) -- An International Labor Organization panel of experts on Monday said that Japan s wartime use of Asian women as prostitutes to serve its soldier should be characterized as sexual slaver, a violation of the ILO s 1930 Forced Labor Convention. The committee s report was submitted to the Governing Body of the ILO and could become the subject of further discussions at gatherings of the ILO s supreme body, the International Labor Conference. The allegations refer to gross human rights abuses and sexual abuse of women detained in so-called military comfort stations, a situation which falls within the prohibitions contained in the Forced Labor Convention, the panel s report says. The United Nations Commission on Human Rights called on Japan in early February to pay compensation to the surviving World War II sex slaves, mostly Koreans, Filipinas and Chinese. The ILO committee s report could bring more pressure on the Japanese government make monetary amends. So far, the government has resisted calls that it pay official redress, opting instead to set up a private fund that solicits funds for the women. The report also is likely to trigger a new wave of global criticism of Japan for its wartime activities. The ILO committee began looking into Japan s sex slave issue after receiving a letter from the Osaka Fu Special English Teacher's Union (OFSET), a group of about 50 foreign teachers working in Osaka Prefecture. In the letter, OFSET appealed for payment of wages, compensation and other benefits arising from the forced labor of the women concerned, the report says. The committee said it does not have the power to order the payment of such compensation. But it added that on the basis of the allegations ... it would appear that these women would have been entitled to wages and other benefits under the 1930 convention. It called on the Japanese government to give proper consideration to this matter expeditiously, in view of the time that has elapsed. The ILO panel is made up of 20 experts on labor law and related issues from 20 different member nations. Posted by Ignatius Ding
Return to SlateWiper home page.
Murayama qualifies remarks on Korea (13/10/95); Japan's Prime Minister seeks expanded military force.
Japan, South Korea to discuss historical research (26/12/95) Asian divisions of both the Japanese and South Korean foreign ministries will discuss Tuesday joint historical research
Comfort women 'did it for money'," (6/6/96) US Congressional Resolution Calls for Apology and Reparation from Japan.
U.S. Charged With Covering Up Japanese War Crimes
U.S. Bars Japanese War Criminals From Entering U.S.
---
"

---
---
IdeaWorx
462 West Napa Street, Suite 201, Sonoma, CA 95476
(707) 939-6655 Fax: (707) 940-4146
Email: lperdue@ideaworx.com
---
Copyright 1994-2004 Lewis Perdue, All Rights Reserved